HAPPY THANKSGIVING
WISHING ALL MY FAMILY AND FRIENDS (in the real and virtual worlds) A WONDERFUL THANKSGIVING HOLIDAY. BE WELL. BE SAFE. BE HAPPY.
LOTS OF HUGS!!
No matter where we are in the world, or what we believe, we can always take a new minutes to be thankful for what we have.
http://www.jacquielawson.com/default.asp
I LOVE the cards on this site. I send many of them throughout the year. A gift subscription is a mere $12 for an entire year. An easy gift that will be remembered every holiday!!
Monday November 22nd
LOL – no one told me I had time going backwards on my blog!! All fixed now!!
Just to remind you I am focused on downsizing at the moment and happily finding new homes for lots of things. I love some of the requests – please send this directly to my sister for her 70th  birthday. It is a book she loved as a kid!! Awesome to help people celebrate special occasions!!
Let's spend this week enjoying Thanksgiving – my favorite holiday.
I love to set a beautiful table. Here is one idea. Of course, the orange lilies are my husband's favorites and they look perfect for the season.
(Some of the stems broke. As I do not drink wine, the wine glasses were a perfect choice to save the flowers and enjoy them)
Friday November 19th
  more gift ideas
Some of the reviews for the new Kinect are not enouraging. We always like to wait for a few of the "bugs" to be worked out before buying anything new. So why not try a new game for an old system?
I also think games like these may inspire someone to explore the real ocean world and hopefully devote some time and energy to protecting life on our planet.
Join a real-time, landmark research project! Learn something about your deep ancestry while contributing to the overall success of the Project. 
The Genographic Project is a global research partnership of National Geographic and IBM. With support for field research from the Waitt Family Foundation, Dr. Spencer Wells and a group of the world's leading scientists will attempt to collect and analyze more than 100,000 DNA samples from indigenous people all over the world. The goal of the Genographic Project is to learn about the migratory paths our ancestors took and how humankind populated the planet. Find more detailed information on the Genographic Project, at www.nationalgeographic.com/genographic
The general public can actually take an active part in this remarkable effort by purchasing a Genographic Project Public Participation Kit and by submitting an anonymous sample of their DNA using an easy and painless cheek swab. By participating, you will not only contribute to this great endeavor, but you may discover something fascinating about your own genetic past as well. Furthermore, the proceeds from the sales of the Kits will be channeled back into the Project to support additional research and to fund education, cultural conservation, and language revitalization efforts for indigenous and traditional communities around the world.
(I also think this is an incredible marketing tactic – getting people to PAY to be one of the test subjects!! Brilliant!!)
Thursday November 18th
and where is Rosie spending her time?
Doing a major downsize to get ready for my husband to retire next summer (hopefully). Selling some things and giving some to my local charity Thrift stores
and playing TENNIS!!
My wonderful husband listened to me whine, snivel and fuss about the end of summer. I put my garden to bed and watched the rain and slippery leaves cover the tennis courts.
"What will I do until spring?"
 Being a very resourceful person, my husband ordered us a Wii and now I can play tennis anytime I want (except when he wants the Wii!!) Awesomeness!!
This is NOT mii!! Just a commercial shot of the game. I love playing with 2 miis – making my own doubles team. I can already beat the game team 3 times in a row – ready for Grand Slam Tennis which is somewhere in the mail!!
Wednesday November 17th
here is another awesome gift idea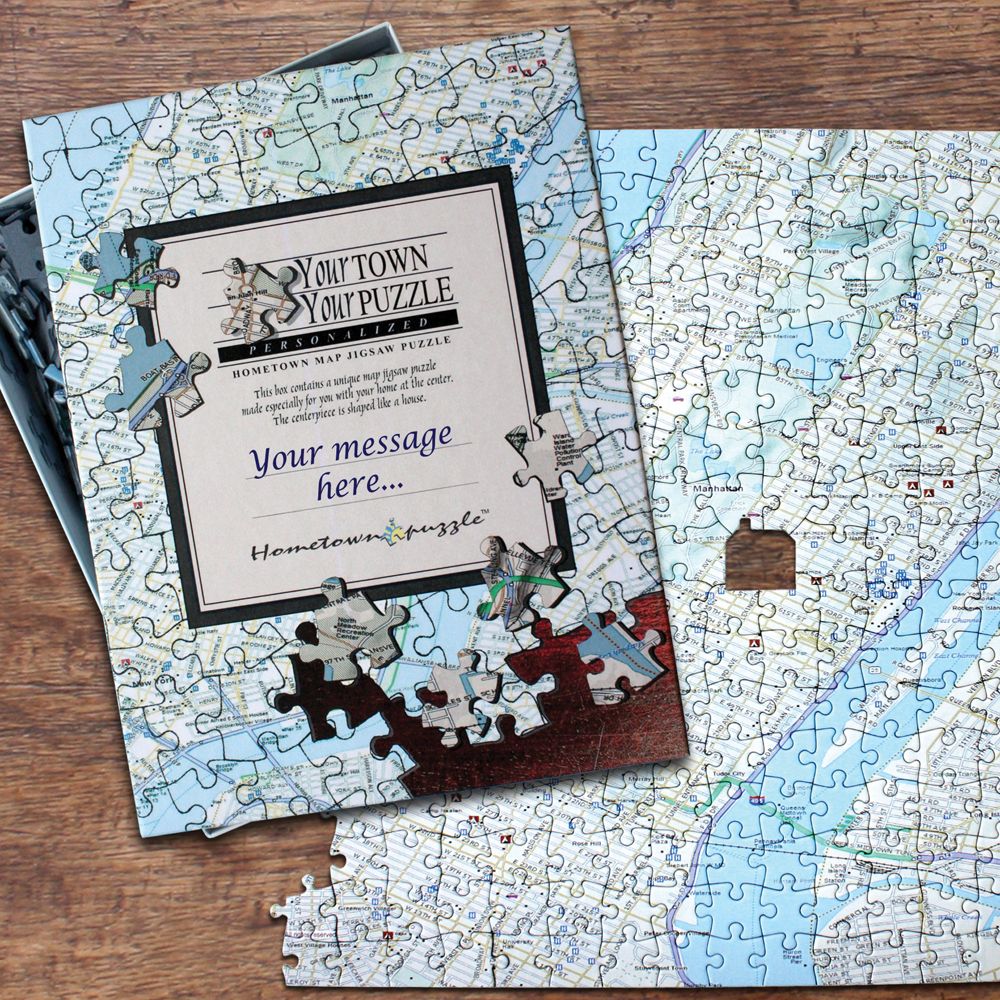 Give a one-of-a-kind gift with this personalized puzzle featuring a custom map. From any starting point, we'll create a 400-piece puzzle of a six-by-four-mile area using U.S. Geological Survey maps. A house-shaped piece in the center represents the address you choose. Shows main roads, contour lines, water features, vegetation, and notable buildings. Arrives in a presentation box with space for you to write a personal message
http://shop.nationalgeographic.com/ngs/product/kids/toys-and-games/all-games/hometown-puzzle%26%230153%3B
Tuesday November 16th
Help all life on our planet by adopting (supporting) an animal of your choice as a thoughtful gift that should make anyone happy to receive!
Here are some of my favorite adoption programs –
This program is run through the Vancouver Aquarium in Canada and studies killer whales in an effort to help them survive.
http://netcommunity.vanaqua.org/KWAP
PAWS rescues performing animals and gives them sanctuary.
So many animals need help. The World Wildlife Fund has many to choose from!
http://www.worldwildlife.org/ogc/species_category.cfm?sc=AWY1100WCM00&searchen=bing
Monday November 15th
Where did that week go??
today I am making key lime pie!!
and here it is!!
Just want to reassure everyone that I am alive and well!! Hope you are having a great life too. I am working hard on downsizing to get ready for moving and my husband's retirement. I still cannot believe how much stuff we have acquired over the years.
Why don't my children have more space so I can give it all to them?? lol
Mrs. Munchie takes a nap after helping me sort out the Neopets!
Light dawning through the fog over the swamp.
Sometimes we have to go on by faith. It is dark and gloomy. We cannot see the way ahead. But if we start in what we believe is the right direction – God will send sunshine to light our way.
I wish I had more time and energy so I could do everything I want – like keeping this blog up. I have so many things I want to record. I have a list!! I need to live to be at least 200 years old to do everything I want!!
Monday November 8th
Great Day with Friends – Sunshine and feeling good again!!
Made a huge pot of Granny's Green Soup. If you love veggies and cheese – this is the soup for you! Hopefully soon I will have more time for blogging and will get the recipe posted. Still to busy with life to visit my favorite VWs or to blog much.
Saturday November 6th
Weekends are a lousy time to be sick.
I am all cuddled up in my awesome vintage styled nightgown!! I always wanted one of these and finally got one. I will be doing some gift suggestions over the next few weeks and really recommend this for someone who LOVES flannel nightgowns. Make sure you know the person loves them. I know both my grannies would.
http://www.llbean.com/llb/shop/33506?parentCategory=502984&feat=502984-tn&cat4=502983
Also have my teddy bear and my awesome Eeyore slippers with my awesome Eeyore quilt to keep me warm.
Anyway – will be back with you when I recover from this flu!!
November 2nd
ALL SOULS DAY
The Christian holiday of All Souls Day pays respect and remembers the souls of all friends and loved ones who have died and gone to heaven.
http://drop-of-joy.blogspot.com/2008/11/day-to-remember-our-beloved.html
This is a celebration of ordinary people who chose to follow Christ. A time to remember loved ones who have gone ahead. I have a dear friend who helped me on my first day of work. She gave me a full tour of the office and showed me important things like – where the washroom was! She died of cancer several years ago and I miss her very much. I hope she will be waiting to give me a tour of heaven!
Winter is coming. Let's have some hot mocha and chocolate chip cookies.
If you want to make some – I have posted photos with the recipe –
https://chucklebeary.wordpress.com/recipes/cookies/chocolate-chip-cookies/ 
  I know some of you still have Webkinz accounts. I promise not to tell.
Here are a few of my pets having a Hallowe'en Party!
My Hallowe'en Holiday Room – Webkinz has the best rooms and interactive pets!
November 1st
ALL SAINTS DAY
In the church calendar – this is the day to honor all the Saints and remember they are still part of the Church. All Christians form the Church of God. We also call the places we worship, churches, but the original meaning is the group of believers,  living here and in Heaven. The early Church worshipped together in many places.
http://www.estatevaults.com/lm/archives/2007/11/01/all_saints_day.html
This tapestry from the Cathedral of Our Lady of the Angels was woven in Belgium using Egyptian cotton and digital files from the artist, John Nava. 
What's so lovely about the tapestry is that recognized, canonized saints are side by side with some unknown saints, ordinary people.
 Its theme is one of hope. He would like people viewing the tapestries "to see the humanity of these figures and feel a sense of connection to themselves."
  St Paul said very clearly – our faith has no meaning if Christ is not alive. He defeated Death and takes all his followers with Him to Heaven when they leave this world.
Many people ask  Saints to pray for them. They believe the Saints are able to pray effectively in heaven – asking God to help people still struggling in this world.
The good news is – I now have a HUGE studio. These photos tell the bad news – it is a complete disaster area!!
So you know what I will be doing – for the next week or so!! I think the geese are planning to escape. Maybe they will fly south and miss winter!! Can I come too??
Well these do not look too bad – except I have to move them all!!