Monday February 28th
This is the REAL day of my birthday!!
LAST day of the month and stuff about my birthday!!
A special card from my BFF from Splat!! Loved the teddy bear joke book she gave me!!
What does a teddy put in his house? FURniture!! lol
Here is a curious hand stitched MOOMINTROLL! What a perfect gift!!
Stitch and Angel make a great addition to my plush collection!!
Did you know The Cheesecake Factory makes a Godiva Chocolate Cheesecake?? 
And I got a box of Godiva to take home too. I have enough chocolate to get through to – next week??? lol
Think my grandson wanted to make sure he had one of these plates to use when we get together – he got me 3 of them!! They are AWESOME!!
HAPPY BIRTHDAY WEEKEND TO ME!!
Warning to everyone – the last days of February will be about my birthday – so feel free to drop back on March 1st!! 🙂
(Just a reminder I do this blog for family and friends. Posting a pic of my awesome gifts is an extra thank you to the wonderful person who sent them to me!)
http://www.zazzle.com/were_ll_quite_mad_youll_fit_right_in_mousepad-144260864791119995
My new mousepad (present to myself) explains everything!! lol
Sunday February 27th
This year's birthday theme is TINKERBELL!! I do not usually have a theme but someone coordinated the gifts this year. Thanks so much!
 Please remember I did not get a childhood so I am having one from now until I die!
So the bathroom has lots of new stuff :
A lovely new shower curtain – with sunflowers!!
and new bath mats
and a matching towel!
Thanks to family and friends who understand and support me.
And special thanks to my husband who is happy with however I want to decorate the house!!
and my favorite – a tennis shirt so I can look great while playing Wii Grand Slam Tennis!!
Saturday February 26th
(I had some other things going on my life at the same time so Mom was wishing me the best for all of them – and they went well!!)
 Flowers from my Mom!! Beautiful!! Thanks MOM!! HUGS!!
Roses for Rosie and beautiful orange lilies (my husband's favorite)
(shadow is from my lens – need to remember 2nd light source with flash)
Lovely shades of greens to compliment the pinks and reds.
A PERFECT selection of Rogers Chocolates chosen just FOR ME!! THANKS!!
Friday February 25th
What do we feed the birds??
This is what we put in the hanging feeder. The sparrows, chickadees and rosy finches all enjoy the shelled sunflower seeds. There is no waste and little mess as the quail clean up any seeds that fall so we do not attract mice or rats.
You can just see one of my studio windows. I can see all the bird feeders while I am working. Mrs. Munchie loves to sit and watch them!
This goes on the ground feeder. There are lots of nuts for the jays and the squirrels. Our last hanging feeder broke when the squirrel hung off the bottom to get the seeds. Now he/she is happy to eat off the ground and leaves the hanging feeder alone.
This is our very fancy ground feeder. lol. It is just a clean board (no coating of any kind) with bamboo poles on the sides. Once we get moved we hope to get one of the fancy covered feeders.
This one is lovely! http://www.etsy.com/listing/30189636/bird-feeder-handmade-suspended-feeder
There are lots of different "flavors" of this brand of suet: nuts, berries and extra seeds. Our birds like all of them. All the birds take turns (sometimes with some squabbling) at getting the suet. We will stop putting it out when the weather warms up.
I LOVE this photo from http://www.wildbirdfeeder.org/Suet-Bird-Feeders.html. We usually only have 2 or 3 birds at a time eating suet on our feeder.
Thursday February 24th
PAWS – my favorite rescue team won an awesome award
PICTURED ABOVE (L-R): Ed Stewart, Pat Derby, Elaine La Russa and Tony La Russa.
Photo courtesy and ARF/Stephanie Secrest Photography. 
I am thrilled to see this deserving team being recognized for their work. They set the standard for helping abused animals live out their lives with love and respect for what they need.
I love to see people working together to save other inhabitants of our world. Elephants live much longer than humans. I hope someday we can communicate with them. I believe they have amazing stories to share.
 http://www.youtube.com/watch?v=R8qZo504E1I for a look at the tiger rescue PAWS was part of!
Wednesday February 23rd
SNOW DAY!!
Cherry tree is already coated with snow. Winnie the Pooh window decorations are still cheerful even in the gloomy weather.
Blue Jay digging in the snow for food. We took out the broom and swept off the ground feeder before loading it up again with a great mix of sunflower seeds and nuts.
"If I cannot go out – I am going to sleep here!! I know it is the dog's special spot but I am in a bad mood and I am going to make sure everyone else is unhappy too!!"
"Thanks, Mumsie for making the cat give me my spot back!"
"OK OK!! I am on the bed and the dog has her spot!!"
"We are playing nicely – see?? Now what?? You want me to move again so you have room for your chair?? I do not understand why you need to spend so much time on the computer anyway!! Take a break!!"
Tuesday February 22nd
6 days to my birthday and already presents in the mail:
All the way from Victoria Canada – some of the best chocolates in the world. The chocolate covered cherries are one of my favorite things in the world. Also got Empress Squares and a box of specially selected favorites. What an awesome gift!! Thanks!! HUGS!!
If you want to see more from this amazing chocolatier – http://www.rogerschocolates.com/
We have more snow so my primroses are safely inside the basement waiting for the next thaw. Seems like the perfect night for –
Grannie's awesome tomato and bacon with cream soup and –
freshly baked egg bread with real butter. Delicious comfort food!
Monday February 21st
Please pray for the victims of yet another earthquake in New Zealand. The wonderful staff of Minimonos is at the top of my prayer list.
Certainly makes my troubles look insignificant!
SOME DAYS JUST DO NOT WORK!!
 Dear EA Sports – I am so glad you are still willing to take money for your games but no longer service them on your site!! There is a terrible glitch on Grand Slam Tennis where the computer starts giving the point to the wrong player. People assume the other player is cheating and quit. I have been playing long enough now that I realize no one is cheating but my wonderful competitive game – the BEST on-line game I have had so far (44 stroke rallies.This was match 3 with same player and we were tied with 1 match each) ended because of your glitch that you never bothered to fix even though people complained about it from DAY ONE!!
http://www.city-data.com/forum/house/488091-hot-water-tank-installation.html
the NEW hot water tank we got seems to have died!!
and WordPress has gone glitchy on me!! I keep trying to update some of my sections and my stuff disappears!!
This is NOT a good day!!
A SUNNY WEEKEND!! AWESOMENESS!!
Sunday February 20th
Hope you remember to take some quiet time to rest. Everyone needs a day off!!
LOOK LOOK WHAT I CAN DO WITH MY NEW CAMERA!!
Learning new things with my guide-book. Finally found the macro lens – I have 2 of them. A separate macro just for nature shots!!
My sweet husband figured out how to get my camera to download the pics to my Wizard editing and storage instead of the software that came with the camera. Much easier to edit!!
Must enjoy today in the sunshine as tonight more snow is coming. Will just be a few days. Every day we get closer to SPRING!!
Saturday February 19th
HOPE THE SUN IS SHINING WHERE YOU ARE!
Today is THE day I dream about all winter. My first day back in the garden!!
A lovely little patch of spring in the herb garden. Blooming in plenty of time for my birthday in 9 days!!
Mrs. Munchkin checks out the primroses we bought today. Primroses do not survive very well here so I buy a new flat of 15 new ones every year!
MUMSIE!! Where did you take my flowers??
Here they are – all safe on the table in the sunshine with lots of water. They were really dry when I bought them. I will have to bring them in every night for now. Should be hardened off (that means adjusted to being outside) in a few days. They need time to move from living in a sheltered greenhouse to being planted outdoors.
A VERY HAPPY WEEKEND TO YOU!!
Friday February 18th
I LOVE the Cheshire Cat from Alice in Wonderland. Loved the one from the new "live" movie too!
10 days to MY birthday!! I ordered myself a plush Cheshire Cat!!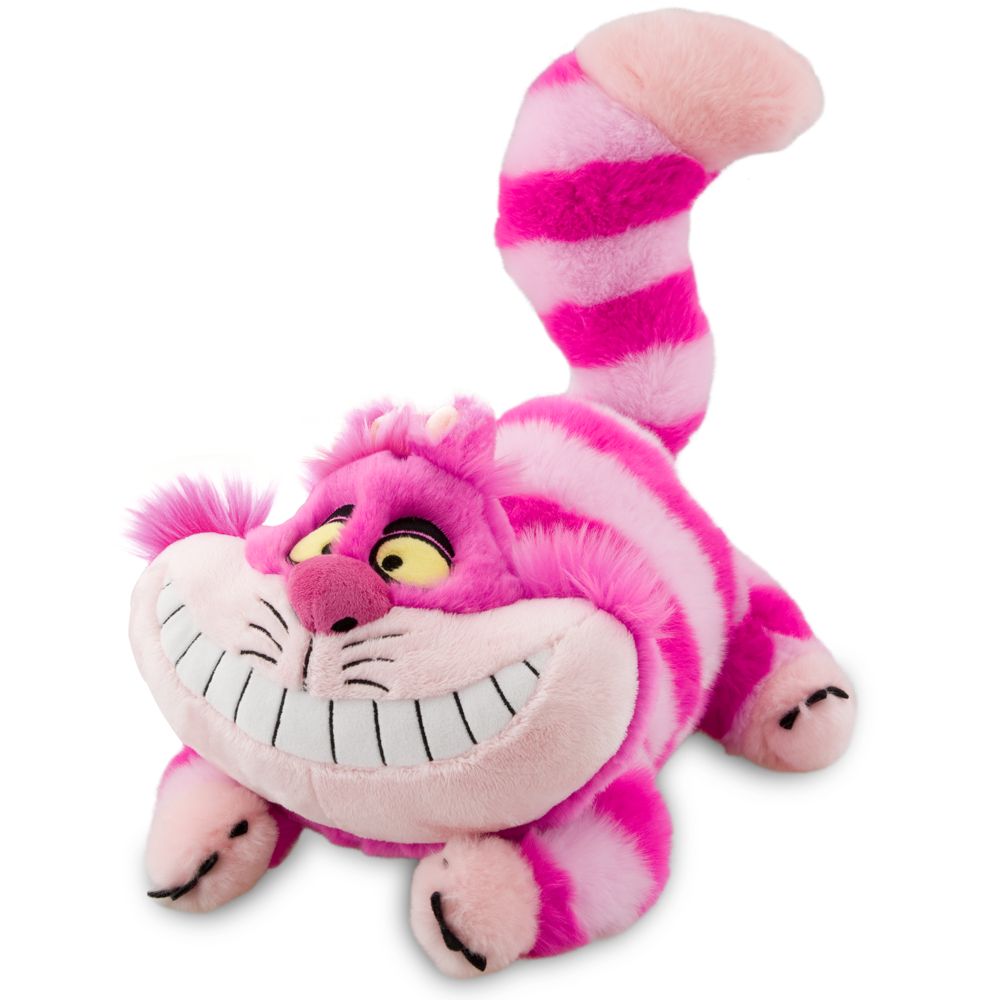 Available from the Disney Store right now!!
Thursday February 16th
Just when you think spring is really coming – the snow starts falling again!
http://www.redtag.ca/travel-articles/categories/Travel-News/?Page=5
This photo sums up my dilemma. Do I really want to travel to somewhere nice and warm or tough it out for a few more weeks and enjoy waiting for spring?
http://luxury-home-gardens.blogspot.com/
Hmmmm – this looks awfully good!! Maybe there is a quick deal to get away for a few weeks?
http://www.homeydesigning.com/200911/top-luxury-villa-in-the-world.html
This site is really worth looking at. I do not want to own one of these houses – I always wonder who does the cleaning?? lol But nice to dream of the whole family getting together for a few weeks!
Tuesday February 15th
My sweet husband came home through the wind and rain with my balloon tied to his cane so it would not blow away.
While he was at work, the courier delivered a chocolate heart from Chocolaterie Bernard Callebaut for us to share –
with an awesome selection of his chocolates inside!
and sometimes less is more – a single pink rose is perfect!
 (Doing much better with my new camera. Lots of good information in the Dummies book, and much-needed technical assistance from my patient computer wizard husband – thanks Sweetie!!)
HAPPY VALENTINES DAY
Monday February 14th
https://chucklebeary.wordpress.com/hopefully-helpful/being-alone/
for my guide to being alone, or just making special occasions better!
(Although I have been happily married for many years now, I do understand being alone and staying single to recover. Please read my introduction, Ripped from my Heart, and my story Winter Sun if you wish to read about my experiences)
Sunday February 13th
Wishing everyone a very HAPPY VALENTINE'S DAY – however you wish to celebrate the day!!
http://www.jacquielawson.com/preview.asp?cont=1&hdn=0&pv=3277201&path=83555
My favorite animated e-card!
Friday February 11th
Working on a guide to being single or alone – especially for special days like Valentines!
YES!! This is me flying!! And why is this photo relevant?? Because this is from a trip I made ALONE and still had a great time!!
HAPPY VALENTINE'S WEEKEND!!
Hope everyone has wonderful plans to celebrate.
There are several different stories about the origins of Valentine's Day. Here is one of them:
In Ancient Rome, February 14th was a holiday to honor Juno, Queen of the Roman Gods and Goddesses. The Feast of Lupercalia started the next day.
During these times boys and girls were segregated. However, the young people had a custom that began on the eve of the Festival of Lupercalia. The girl's names were written on pieces of paper and inserted into jars. Each boy then drew a girl's name from the jar and they were partners throughout the Festival. After being paired, the children would often continue to see each other throughout the year and on occasion even fell in love and got married.
Emperor Claudius II of Rome, also known as Claudius the Cruel was having a difficult time recruiting men as soldiers. He believed that the men did not want to leave their sweethearts and cancelled all engagements and marriages throughout Rome. St. Valentine, a priest of Rome at the time, secretly married couples. He was eventually caught, arrested and condemned. He was beaten to death and beheaded on February 14th, around the year 270.
Lupercalia was a feast to a heathen God. Pastors and priests of the early Christian church did away with the pagan custom by replacing the names of the girls with the names of saints. They chose St. Valentine's as the day of celebration for the new feast.
(remember Halloween was also a pagan holiday and the Christian Church placed a Christian holiday on the same day – All Hallows Evening followed by All Saint's Day)
http://www.turnbacktogod.com/february-14-valentines-day/
Thursday February 10th
still cold out – time for hot chocolate and cookies
I always had milk or hot chocolate and cookies for my children when they came home from school. This is a great time to sit down and relax, leave the stress of school behind and enjoy being safe and comfortable at home.
We did not always have homemade cookies. Here are a few store bought cookies that I really enjoy:
Even if no one else is home, take a few minutes to relax and leave the world behind. Visit with your pets, read a good book, or send out some e-mail or Tweets to those important people in your life. We all need "down time" where we take a break from the heavy demands of the world.
Best hot chocolate is still Ghirardelli's, but Penzey's makes a very good plain and also a mint hot chocolate.
Wednesday February 9th
Cold weather means snow and often wet gloves. Here is an easy way to dry them. Slide gloves over clean and dry bottles – I usually have a few Coke empties around to use. YES!! Those are hairs from my dog, Bella. Everything is covered in her hair – she is mostly lab and she sheds ALL year long!!
Here's my gardening gloves washed (cannot got those dirt stains out – lol) and ready for spring!
Tuesday February 8th
Really happy to get my PAWS elephant adoption package in the mail this morning! Remember my grandchildren got a whale, a bobcat and an elephant for Christmas and Birthdays this year?
Here she is. One of my granddaughters chose this elephant.
is where you can read more about the wonderful people at the Performing Animals Welfare Society.
Lost Internet due to wind storm
glad to be back 🙂
Sunday February 6th
Wind and rain storm so huddled inside again. What shall we read?
This is the first book in the trilogy. I am so impressed with this story. The author creates an intricate world (possibly in our future) to explore the timeless and endless themes of love and war.
In the tradition of all good adventure stories, the heroes fight against evil at great personal risk, but Ms. Collins clearly describes the post traumatic shock as well. What is the real cost to our psyche when we kill someone? 
One of my favorite movies is THE FISHER KING with Robin Williams. The main character deals with what happens to someone who witnesses someone they love murdered. We do not get up and walk back into life easily. Like the Hunger Games, this movie portrays the horror and nightmares that follow violence.
I believe we all long for peace, for the Golden Ages between wars, where artists flourish and we are able to reach for our full potential. In the midst of fear and destruction, there is no room for the creativity needed to grow past the need for violence.
ANOTHER HAPPY WEEKEND
Saturday February 5th
Today seems like a great day for an UN-BIRTHDAY PARTY. One of my friends is only here during the summer so we always have a wonderful UN-BIRTHDAY party when she is here to celebrate all the holidays and special occasions we missed.
People always amaze me with their creativity – look at these flowers!!
http://www.nofussfabulous.com/?p=8339
This site is really worth taking a look – with great photos of the decorations they made. Just awesome!!
http://www.hotelsbycity.net/blog/usa_nevada_las-vegas/wp-content/uploads/2007/02/chinese-new-year.jpg
Thursday February 3rd
My, what an exciting month we are having! Interesting to see how many on-line merchants are off-line enjoying time with friends and family.
To read more about this 2 week celebration:
http://education2.uvic.ca/Faculty/mroth/438/china/chinese_new_year.html
http://www.mymym.com/en/article/613.html
And, of course, the wonderful fireworks celebrations!!
Last year on Wiglington and Wenks we had an awesome Chinese New Year's celebration. Grannie Rosie's WW Blog carried on that theme. Lovely, bright and colorful. Certainly hope WW is able to sort out their financial situation and restore WW to health and vitality.
This year at the Australian Open Tennis the FIRST Asian person reached the finals. Li Na continues to be the first Chinese tennis star, breaking new ground for others to follow.
http://www.vipstand.me/it/sports-news/tennis.html
Li Na is charming and witty in her interviews. She complained of not getting a good night's sleep because her husband/coach snores.
And I love this quote:
"Because I'm better, so I won!"  
HAPPY GROUNDHOG DAY!!
Wednesday February 2nd
http://news.nationalgeographic.com/news/2011/02/110201-groundhog-day-2011-punxsutawney-phil-weeks-winter-us-weather-anniversary/
Punxsutawney Phil, the world-renowned Groundhog, photographed 31 years ago. Follow the link for interesting information on the traditions and origins of this special day.
This year Phil did not see his shadow so he predicts spring is coming soon!!
I have a few snowdrops blooming in my garden. Here is what they look like when they really get going.
http://www.flowerfairiesprints.com/image.php?id=228893
Cicely Mary Barker is one of my artist heros. Here is her wonderful snowdrop fairy painting. She did a whole garden of flower fairies, and ones for wild flowers too. The link will take you to view more of her work and also allow you to purchase a print if you wish.
I have all the books of her fairies, several prints and also rubber stamps of my favorite fairies. Obviously my very favorite is the Rose Fairy.
and she even did a wild rose –
HAPPY TUESDAY
FIRST DAY OF A NEW MONTH!!
Look! Look! – green crocus shoots are coming up all over my garden!!
and even some early daffodils are coming through!!
I am very happy to see signs that winter will be over soon. Even though we expect more snow this weekend – these plants will keep growing under the snow!
Have ordered this book to give me some help figuring out all the bells and whistles on my new camera. Hope to start taking some short videos!!
Also requested 2 books from my library on being a better photographer. I may be old but I still love to learn how to do things better!!Both books are written by David DuChemin.
http://creativelive.com/courses/david_duchemin/
This course is still available for purchase.